The Top Five Parks In & Around Pottstown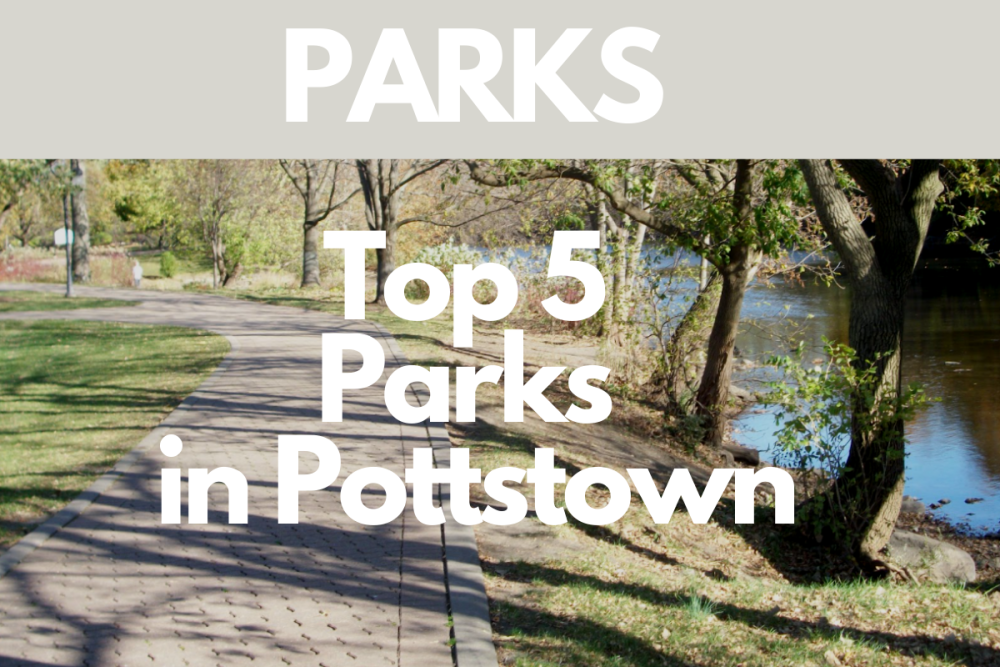 The top five parks in and around Pottstown
It can be difficult getting some time off work to spend with your family. That's why any chance you get, you should plan an outing that everyone will enjoy. One of the best ways to do this is to spend time with your family at one of the local Pottstown parks.
Parks are the perfect place to enjoy some family time. Whether it is a family picnic, kicking a soccer ball around, or simply just going for a stroll, a park visit is an easy and affordable way to unwind, and have some fun.
If you're a local here in Pottstown, you would know that the parks in Pottstown are some of the best in the whole of Pennsylvania. In this article, we cover the top five parks in and around Pottstown.
Memorial Park
With over 70 acres of amenity-rich land, Memorial Park is the go-to destination for people looking for a spot to enjoy the great outdoors. In memorial Park, you'll find playgrounds, walking trails, and lighted ball fields.
Located at 75 W King St Pottstown, you can have a family picnic or cookout and cook your meals right on the field. You can also take a stroll around the local pond or unwind with a good book near the water.
And if your family includes a four-legged friend, don't worry. Family pets aren't left out of the fun. You can walk your dog on the set-out walking trail.
Nearby you'll find the Colebrookdale Railway, the Hopewell Furnace National Historic Site, and the Pottsgrove Manor.
Or you can take the kids somewhere where they'll enjoy themselves like the carousel at Pottstown. A trip here will make for a worthwhile afternoon.
Riverfront park
Gorgeous views, easy to locate and access locations, and the perfect backdrop to take family pictures, Riverfront Park is a must-visit location for both locals and tourists visiting the area.
Riverfront provides the perfect place for you and your buddies to go kayaking or rafting. Fishing enthusiasts are also welcome here to settle down and fish to your heart's content. If that's not to your taste, then perhaps you might care for some of the local entertainment. You can visit the amphitheater located right in the park and either organize your local production or enjoy the one going on.
Take a walk down Schuylkill River and enjoy the romantic atmosphere, or you can visit any of the nearby sites including the beautiful floral gardens of Welkinweir or the French Creek State Park.
The riverfront is also accessible to the differently-abled with its amenities that appeal and can be used by every guest. You can find Riverfront on College Dr.
Sunset Park
Come experience nature at its finest in Sunset Park. Sunset Park is the perfect place for the entire family to enjoy nature. You can see deer coming out of the woods to eat while you and your party also share a picnic of your own.
There is also a quaint little Creek and pond where you can find short trails that wrap around the pond. This quiet park is a great place to relax or even exercise.
You can bring your dog for an evening stroll around the grounds or snap a few sunset pictures. The pond isn't just for ambiance, you can also enjoy some light fishing or just relax by the creek, taking it all in.
And if you're feeling a little bit adventurous, you can even explore the connecting trails that lead you to neighboring parks.
Sunset Park is located at 1401 N Charlotte St Pottstown. Come and enjoy peace in a clean and inviting environment.
Ironstone park
Ironstone is the perfect spot to bring your pets. You'll regularly see dogs enjoying playing fetch and catching frisbees in the vast expanse of land. And if they're a fan of the water, they'll enjoy jumping around in the creek.
The wooden train tracks in the quarry make for the perfect location for photos to document your day out.
This lovely park has several other amenities like two pavilions, a well-equipped playground, basketball courts, and walking trails.
Whether you're there for jogging, fishing, outdoor sports, or just some downtime, Ironstone Park is the perfect spot to enjoy a clean, peaceful, and picturesque environment. You can't go wrong with ironstone for your family gatherings or for solo quiet time away from the noise.
And with a wheelchair-accessible entrance, Ironstone Park aims to include everyone. You can go visiting for yourself at 141 Grist Mill Road, Boyertown
Warwick park
You'll be pleasantly surprised by the level of care and forethought that went into making Warwick park the marvel that it is today. 
With various trails that you can go on for long walks and even one that leads to the Appalachian trail, you'll continue to be wowed every step of the way.
You can visit Warwick park by yourself to get some exercise or come visit with the entire family and have a picnic on the lush and clean Fields or even go fishing in the nearby ponds. There are even seats close by for you to catch your break and enjoy the peaceful environment.
The beautiful wildlife-filled with flowering plants, insects, birds, and other woodland creatures make for the ultimate experience in nature. If you come to visit with the whole family, you can have the little ones visit the creek or the playground. 
Visit Warwick Park at 191 County Park road Pottstown.
Conclusion
Clear up your Sunday afternoon, grab a picnic basket and take your family down to any of these five locations. You can thank us later.